The dining table should be a place where you can bond with the ones you love and revel in a day well-spent. Whether you are sharing a fabulous meal you spent hours preparing, or a mountain of take-out from just down the street, we have put together our top 20 selections of expandable dining tables to inspire nights at home building on traditions, old and new.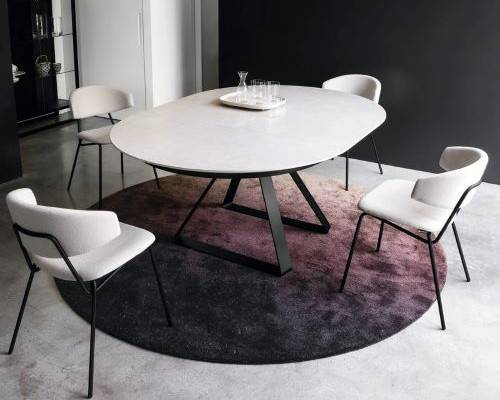 Atlante Extending Table
Showcasing slender, geometric, yet welcoming lines, the Atlante Extending Table features a central fixed base outfitted with a handy butterfly extension leaf, seamlessly adding two additional seats. A combination of elegance and functionality, the ceramic top is exceptionally resistant to scratches and stains.
Delta Extending Table
With a single leaf that slides on at the end, the natural wood finish of the Delta Wood Extending Table is beautifully conjoined to the matte metal slant-cut legs. Simple and durable, the table's legs were built on the corner ends to accommodate up to 10 people comfortably without compromising the design.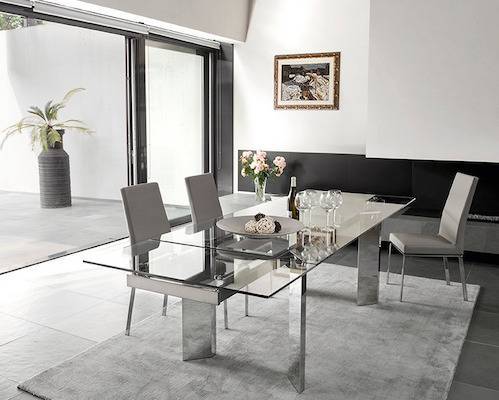 Tower Extension Dining Table
There is something palatial about the Calligaris Tower Extension table. The clear tempered glass exposes the sleek chrome surface, while the diagonally mounted legs are perfectly engineered to the frame. Two leaf extensions emphasize the unmistakable elegance of this chic dining table.
Profile Dining Table
The rustic luxury of the Profile Dining Table by Bernhardt features a natural walnut hardwood and warm taupe finish. The beautiful engineered joinery accents the table corners from the diagonally-cut, tapestry gold metallic legs. Two 20" leaves can extend the table's surface to 120" for a larger gathering.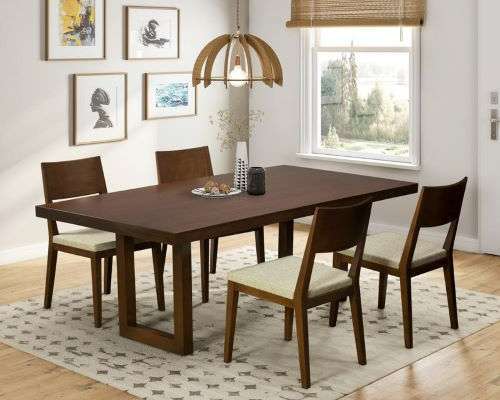 Emerson Extendable Dining Table
Made right here in the United States, the Emerson Extendable Dining Table from Saloom Furniture features solid maple wood construction offered in a wide variety of rich finishes to effortlessly match your dining space. The U-shaped wood base offers an unexpected touch of design while allowing for ample leg room underneath.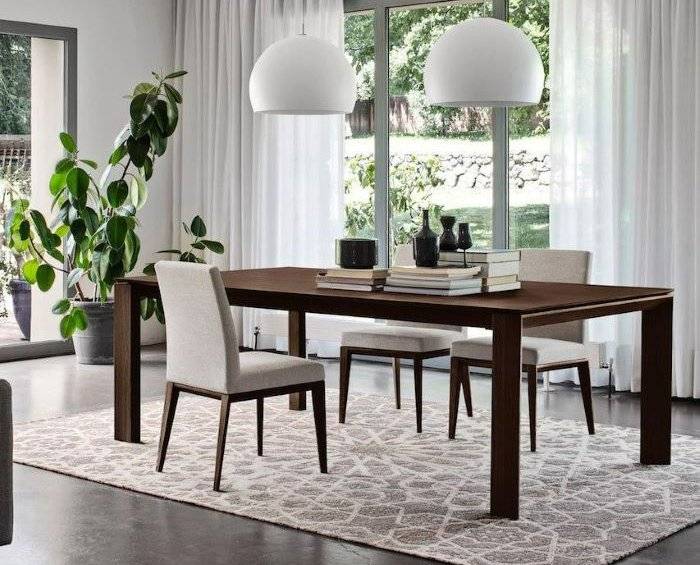 Omnia Dining Table
The Omnia table contains an ingenious mechanism to expand the top surface. Pull the frame towards you to expose hidden castors allowing the leaf to gently slide out. The perimeter legs have s slanting cut on the inside giving it a distinctive detail. The drop-leaf dining table will be a stunning addition to your home.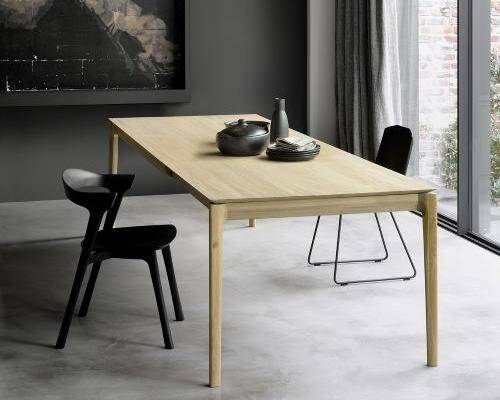 Bok Extendable Dining Table
A light and airy, yet sophisticated design, the Bok Extendable Dining Table from Ethnicraft is crafted from solid oak wood for lasting appeal and is offered in multiple sizes to accommodate up to ten people comfortably. The nuetral oiled finish allows the natural wood grain to shine through for a solid and sturdy dining design suitable for any interior decor scheme.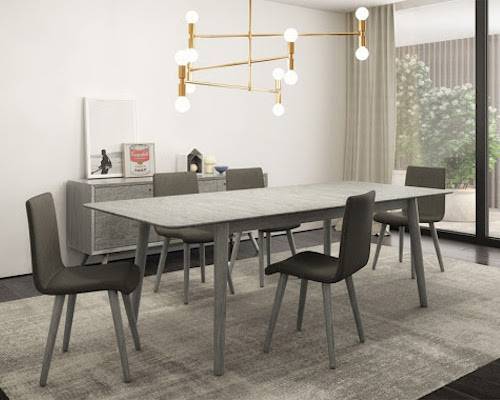 Elda Extendable Dining Table
A stunning mid-century modern inspiration, the Elda Extendable Dining Table features gorgeous, solid birch finish selections to complement your overall dining room style. With two sizes to choose from, the optional self-storing extension leaf creates room for up to 10 guests.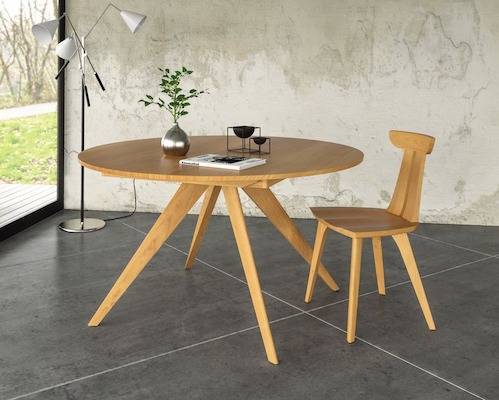 Catalina Round Extension Table
The Catalina Round combines clean, unadorned lines of the International Modernists with organic and geometric forms. Designs of the period reflected that sense of hope and the promise of an ideal future. Comfort and nostalgia will fill your home with Catalina's retro-modern shapes and sensibilities.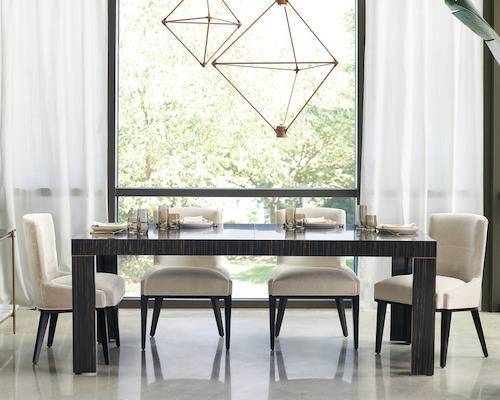 Edge Extendable Dining Table
The luxury sophistication of the Edge Extendable Dining Table is noted for its engineered mixed materials of Striated Ebony with Lucent Bronze Metallic paint trim. Its boldly stated design reminds of Aspen trees in the winter and purposeful construction makes it a perfect focal point for the scene.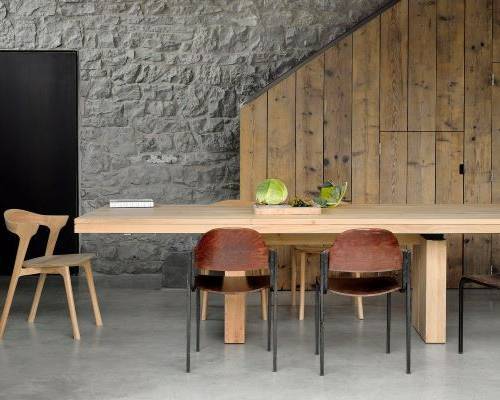 Double Extendable Dining Table
Fine, clean lines meet solid construction with the sophisticated simplicity of the Double Extendable Dining Table from Ethnicraft. Easily adaptable to any large interior space, this solid oak wood design effortlessly extends to seat up to 12 people, perfectly paired with solid wood or leather seating designs.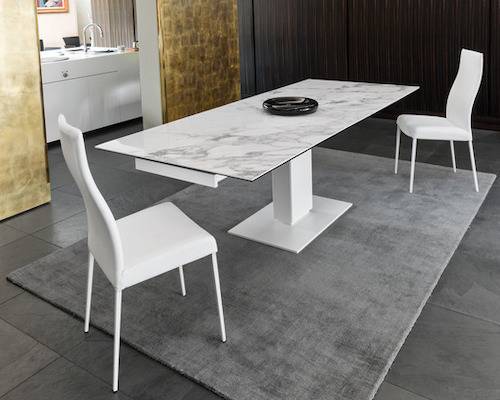 Echo Extending Pedestal Table
An epitome of luxury modernism, the Echo Pedestal Table by Calligaris has a centrally based foundation that supports the elegant ceramic glass table top. Choose amoung a marble ceramic or matte optic white finish for desired style. Two lateral extension leaves easily slide to provide ample space for up to 10 guest.
As you embark on your new dining experience, consider how your current seating arrangements will be integrated into your new look. Dashes of table accents and accessories are available to round out your ultimate restaurant-worthy look. Be ready for your friends and family to be equally delighted by both your new cooking skills and interior design esthetics.